What fun, creative seeds you have been planting! Check out these highlights from last week's party:
The Army Wife Quilter
has some fun Halloween projects:
Speaking of Halloween, check out little miss creative pants Amanda at
Crafts By Amanda
!
These are made from bread tags - too much fun!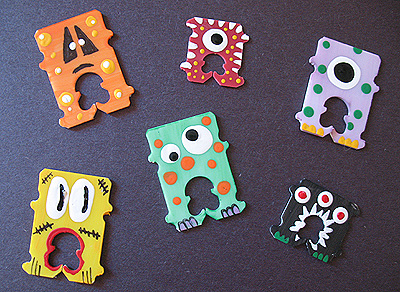 Ok, I can't wait any longer to see what you all have been up to this week. Come plant your creative seeds ladies! Here are the linky party rules:
Grab your "I've Been Featured" buttons ladies and wear it with pride - you definitely deserve it!
And now for this week's planting party. Here are the rules:
1. Tell all your bloggy friends there is a new linky party!!!
2. Link to your specific post on your blog, no Etsy sites please.
3. Grab the button below and place it within your linking post.
4. Visit other friends, new and old, who are planting creative seeds (remember to leave comments)!
5. Check back to see if you have been featured from the previous Punkin Seed Party! If you have, make sure to grab the "I've been featured" button and wear it with pride on your blog!
6. Leave a comment here - you know how I love hearing from all my friends!!!!
Get to linking girls!